ONLINE REGISTRATION
PRIME-SHINE POLISHED CONCRETE TRAINING
Training of the Prime-Shine system with our high-performance machines Premium Grinder and Polisher US Abrasives
Exclusive to Chemtec Epoxy Coatings in collaboration with Epoxy et Cie Canada!
The Prime-shine polishing system !! 4-step polished concrete system !!
$ 395.00 + tx per person (dinners and drinks included)
Fill out the form above.
EPOXY TRAINING
Epoxy et Cie Canada offers epoxy comprehensive training on different type of floor.
More than 300 epoxy products are available including two new concrete and rubber lines. Dinners are included!
Continuing education after your weekend.
Products are the most efficient in the industry.
The best after-sales service.
From 8:00 to 16:00
Only 20 places available.
Special price: $ 495.00 plus taxes.
 EPOXY TRAINING FOR WOODWORKERS  AND ARTISANS (Including counters and more)
FOR ENTREPRENEURS AND ARTISANS
*** TRAINING COSTS: $ 450.00 plus taxes
THE BEST PRODUCTS RECOGNIZED ACROSS NORTH AMERICA
50 PLACES AVAILABLE WITH PAYMENTS IN ADVANCE
1. ADVANCED TECHNIQUES OF CLEAR EPOXY COATINGS ON YOUR SURFACES;
2. TECHNIQUE FOR RIVER TABLES
3. ACCURATE TRAINERS
4. TRAINING GUIDE
5. DINERS INCLUDED
6. MARKETING SERVICES: FACEBOOK AND WEBSITE
7. DEVELOPMENT ADVICE
BUSINESS;
REFERENCING, ETC.
8. BEST SERVICE ON THE MARKET!
9. ACCESS TO THE BEST TEAM
INDUSTRY TECHNIQUE
10. WELCOME TO EVERYONE!
REGISTRATION:
epoxyetciecanada@gmail.com
450-996-0812
SYNTHETIC RUBBER TRAINING
High-end training! For installers! Would you like to learn how to install EPDM synthetic rubber coverings? Another training from Chemtec Epoxy Coatings and Époxy et Cie Canada!
Training sessions for pool contours, steps, sidewalks and more
In addition, an introduction to rubber made from recycled tires for EcoPavage installations
The 1-day training will be theoretical and practical from 8:00 a.m. to 4:00 p.m. on:
The training will be carried out by expert installers in the industry for the modest sum of $ 595.00 + tx / workstation, plus $ 395.00 + tx / additional person at the same station. (Dinners and drinks included)
Reserve your places quickly
(Only 10 workstations available per session)
REGISTRATIONS:
epoxyetciecanada@gmail.com
450-996-0812 Paulo Gervais
POLYURETHANE TOP COAT MEMBRANE TRAINING AND ADVANCED PARKING-COMPLEMENT-FLOORS
-12 people maximum per training
Costs $ 395.00 plus taxes, dinners included.
-31 OCTOBER and 1 NOVEMBER 2020
-21-22 NOVEMBER 2020
-23-24 JANUARY 2021
-20-21 MARCH 2021
CEMENT TRAINING
-10 people maximum per training
Cost: $ 395.00, plus taxes, dinners included.
-13-14 FEBRUARY 2021
Costs: $ 395.00, plus taxes, dinners included.
-15 people maximum per training
-SATURDAY, NOVEMBER 8, 2020
-SATURDAY JANUARY 7, 2021
– SATURDAY MARCH 7, 2021
TRAINING FOR ARTISTS IN THE SOUL!
Here is the complete information for the Epoxy Group Course – Italian Coffee and Croissant, white or red wine of your choice !! With Anthony Riccio and Sandra Boutin. Renowned artists. Artistic and musical experience guaranteed! LIMITED PLACES!
Canvas 24/30 paint and Epoxy provided !! You leave with your works !!
SCHEDULE: Sundays 2020-2021! LIMITED PLACES! 15 people per lesson maximum! Registration: Fill out the form above
– OCTOBER 18, 2020
– NOVEMBER 8, 2020
– DECEMBER 6
– JANUARY 17, 2021
10:00 a.m. to 2:00 p.m.
Here's how to do it:
1. First of all, please choose a precise date and confirm with us if it is available.
2. We offer you the opportunity to choose one of two teachers: Anthony Riccio or Sandra Boutin. Or both. (The cost is the same)!
3. We provide: Premium brushes / paints / epoxy, can be purchased after class! and a large 30 "x 40" canvas. Transportable for your vehicle.
4. The cost is $ 349.00 all inclusive for the half day!
5. A deposit in the amount of $ 175 is payable when booking the date by Interac transfer. The balance of $ 175 is payable two weeks before the start of the course. In case of cancellation on your part, you can move your class date. (The deposit is not refundable)
• Can I take the course even if I've never painted before? Yes Absolutely.
• Do I have to be dressed in a special way? It is best to have a change of clothes and old shoes.
Be prepared for an experience out of the ordinary.
Satisfaction guaranteed!
8:00 am

FORMATION EPDM, CAOUTCHOUC ET ÉCOPAVAGE, PNEUS RECYCLÉS : CONTOURS DE PISCINES, MARCHES GARAGES, BALCONS, ET INTRODUCTION A L'ÉCO-PAVAGE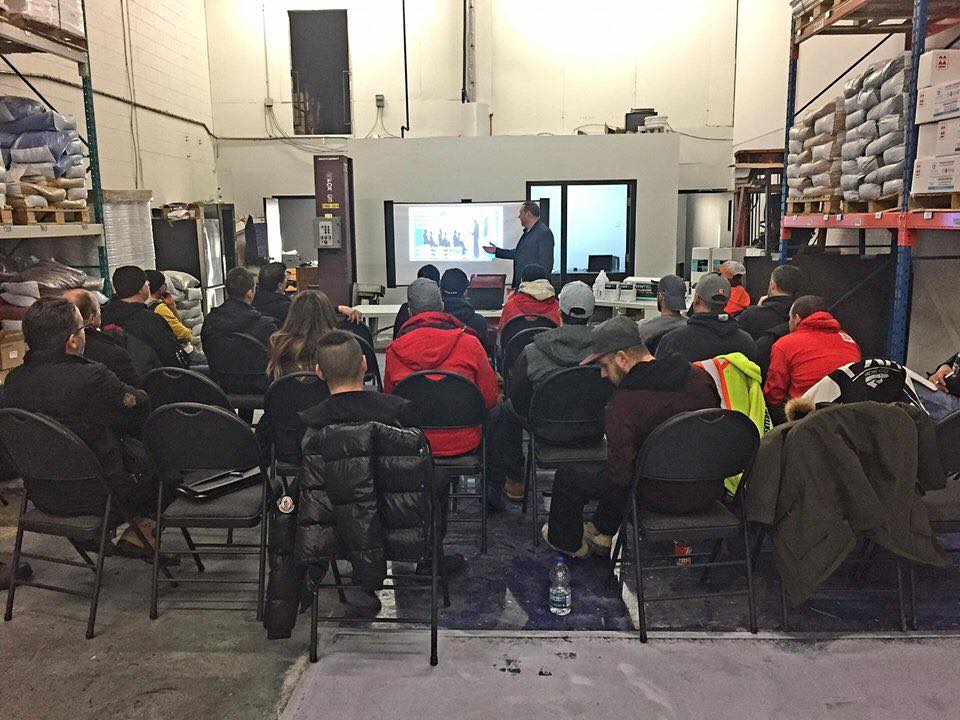 Our goal is to treat our customers as a partner.